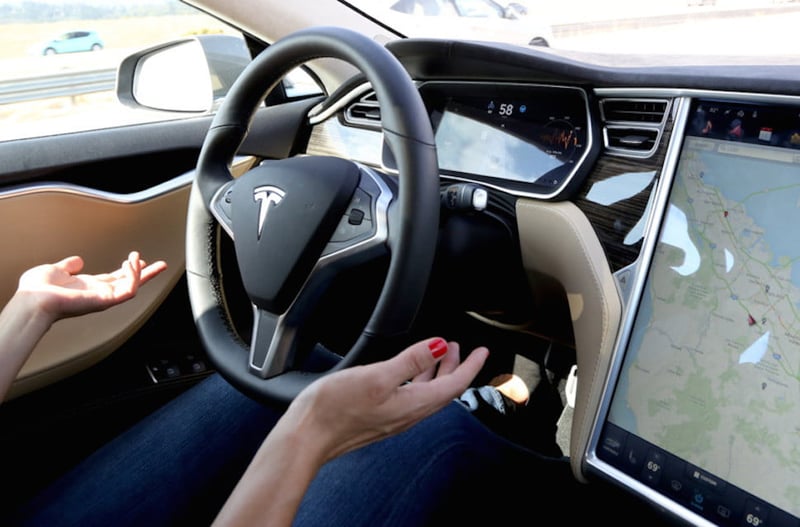 By Bruce Brown
Tesla began rolling out software version 9.0 to every Model S, Model X, and Model 3, according to the company's blog. Calling it "our most substantial update yet," Tesla encouraged owners to connect their cars to Wi-Fi for over-the-air (OTA) delivery.
Version 9.0 includes an array of app updates, vehicle operational controls, navigation aids, and even games, but not the previously promised Navigate on Autopilot.
Navigate on Autopilot not included
Navigate on Autopilot is an active guidance feature that promises to let Autopilot find and guide the car on the most efficient route to a destination — a significant incremental step toward autonomous operation. Tesla decided to hold back Navigate on Autopilot with V9.0 to validate the operational feature using a Shadow Mode that is included in the release.
CEO Elon Musk used Twitter, his favored communications platform, to announce that Tesla is rolling out version 9.0 without Navigate on Autopilot.
"V9 moving to wide release now. Holding back Autopilot drive on navigation for a few more weeks of validation Extremely difficult to achieve a general solution for self-driving that works well everywhere," Musk tweeted.
Tesla software version 9.0 features
Owners may be disappointed about the active navigation guidance delay, but they will find a variety of new features:
Mobile app updates: The Tesla mobile app can now initiate vehicle software updates remotely. You can also use a mobile device to send a destination to the navigation system. If the driver allows it, passengers can control the cars media settings.
Dashcam: All Teslas with 2017's Hardware version 2.5 can now use the car's forward-facing camera to record and store 10-minute video clips.
Apps and app launcher: Apps are now in one location. Model 3 owners gain web browsing, calendar integration, and energy consumption monitoring.
Climate controls: New climate and comfort menus and controls vary by model.
Full 360-degree view: Instead of using ultrasound sensors the eight cameras on Model Ss, Xs, and 3s provide a 360-degree visualization with more powerful blind spot monitoring, additional vehicle class icons, and distant adjacent lane views.
Navigation routing: The details vary by model, but the software shows drivers more information about upcoming turns and exits. Drivers can also enable high-occupancy vehicle (HOV) lanes for the navigation system if the car is eligible.
Obstacle-aware acceleration: with this feature enabled, the system reduces acceleration while the car is moving at low speeds such as parking if it detects an obstacle.
Games and Easter eggs: Telsa continues its tradition of hiding games and surprises in its vehicle software. Version 9.0 includes classic Atari games the driver can play using the car's touchscreen and steering wheel controls like a game console. Games are only accessible when the car is in park.

helps readers keep tabs on the fast-paced world of tech with all the latest news, fun product reviews, insightful editorials, and one-of-a-kind sneak peeks.